About Us
Southern Supplies Limited is a total HVACR (Heating, Ventilation, Air Conditioning and Refrigeration) wholesale distributor. We are committed to the service, supply and assistance with HVACR contractors. We carry complete lines of HVACR inventory, including equipment, service parts and assist with technical information to ensure our customers can make one stop to get their projects completed on time and to their satisfaction.

Southern is also a family business, somewhat of a rare entity these days. We are built on the reputation of treating our staff and customers like `family'. We believe this attitude has greatly attributed to the success of the business. Our staff averages over 20 years of employment with us. Many of our customers have been with us since the start of our business.

With our primary warehouse in Oshawa and our Belleville location we service the Central and Eastern Lake Ontario area, plus northern regions from Lake Simcoe to Haliburton and Bancroft regions. We also provide regular delivery service in these areas.
History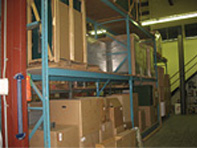 Southern Supplies Limited was founded in 1956 by Walter H. Libby. He had worked with his father, Martin Libby in a plumbing and heating service in Oshawa. Walter had found that many local and rural plumbing and heating contractors needed a more local supplier of equipment and service parts.

Either travelling or awaiting delivery of products from the Toronto area or further away inhibited the contractors service abilities. Someone local carrying the products contractors need made their work easier. The business was changed from a contracting service to a wholesale operation supporting the HVACR contracting trade.

The business was set up on Court Street in Oshawa. This building still stands today. As the business grew, additions were made, eventually this building became too small for the operation. In 1971 a new building was erected on Bloor Street in Oshawa where we are presently located.

We also serviced the Central Lake Ontario and Belleville/Quinte regions. To provide better service to contractors in these areas we opened a branch operation on Parker Street in Belleville in 1969.

Walter and his sons, Walter Jr. and Gordon, both joined the family business in the late 1970's are all very active in the operations.